Easter Bunny Village
Mon-Sat 11A-7P; Sun 11A-6P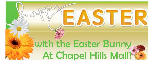 Visit the Easter Bunny at his Village at
Chapel Hills Mall,
Friday April 4 through Saturday April 19
---
Monday through Saturday, 11AM - 7PM
Carrot breaks 1:00-1:30PM and 4:30-5:00PM
---
Sundays from 11AM - 6PM
Carrot break 2:30-3PM
---
Pets are welcome on Tuesday nights, April 8 and April 15, from 4PM - 7PM.
---
Lots of great options on photo packages starting at just $19.99. Hugs and visits with the Bunny are free!