Kids First Safety Day
August 10 from 10 a.m. to 6 p.m.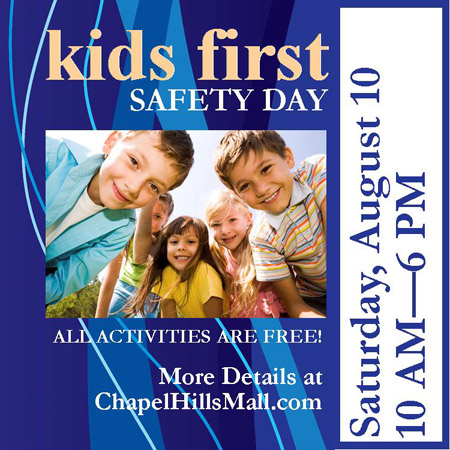 Let Chapel Hills Mall help keep your kids safe this summer!
Bring them to our Kids First Safety Day on Saturday, August 10 from 10 a.m. to 6 p.m.
Activities will include fingerprinting, car seat safety checks and demonstrations by the Colorado Springs Police and Fire departments. Kids can meet McGruff the Crime Dog and Smokey Bear, and take hands-on lessons in safety and self-defense. Tour an emergency helicopter, fire truck, squad car, mobile command post and more!
Activities will take place in the Lower Level Sears Wing of the mall and in the Sears parking lot on the west side of the mall.
All activities are free and open to the public.
Fingerprinting
Car Seat Safety Check
Police K9 demonstrations
Pikes Peak Library District informational table
Crime Prevention Officer activities
Martial arts demonstrations by CSPD
Internet Safety
Police cruiser and police motorcycle displays by CSPD
Mall safety information from Valor Security
Meet McGruff the Crime Dog
Smokey Bear
SWAT Bearcat armored vehicle
EOD (explosive ordnance disposal) truck
Colorado Springs Fire Department fire truck
Memorial Star Transport emergency helicopter
AMR ambulance
9-1-1 Safety Trailer instructional interactive activities
CSPD Mobile Command Post on display