That's News To Me!
Mon-Fri at Chapel Hills Mall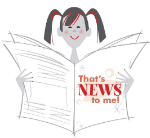 Attention kids 9-14!
Here's a fun new game you can play
and be entered to win prizes
for learning about current events!
1. Visit Chapel Hills Mall Guest Services, Upper Level Dillard's Wing, Mon.-Fri.
2. Pick up the current week's That's News To Me!TM Question Sheet
3. Answer all six questions by finding the That's News to Me!TM Colorado Springs Gazette displays throughout the Mall
4. Turn in your answer sheet at your favorite Pikes Peak Library District library by 6 p.m. Friday
5. Wait to see if you are a lucky winner of a $10 Chapel Hills Mall gift card — six awarded weekly!
Five Grand Prize eBook Readers will be awarded
at the end of the game!
Grand Prize Winners will be drawn from all entries at the:
That's News to Me!TM Ice Cream Bash
Saturday, August 3, 1-2 p.m.
Center Court, Chapel Hills Mall